Send Inquiry
PUF Insulated Storage Tank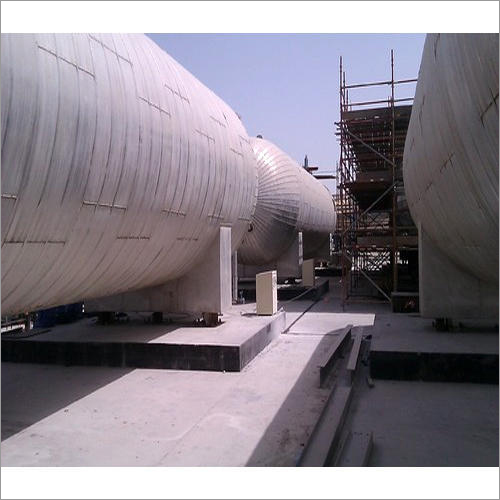 PUF Insulated Storage Tank
Product Code : 01
Brand Name : MOS TECHNO ENGINEERS
PUF Insulated CO2 Storage Tank
We are a trusted source to buy PUF Insulated CO2 Storage Tank.
Features:
Dimensions are accurate
Working life of the storage tank is longer
The design of the tank is compact
PUF Insulated CO2 Storage Tank:
A team of highly trained experts are behind the production of CO2 Storage System. The storage system is apt for storing gases at lowest temperature of - 20-degree centigrade. Best technology and high grade components are utilized in the development of storage system.

Other Details:
Pressure reducing stations with by-pass line
PRV is capable of delivering constant pressure on downstream side no matter the pressure of upstream side changes.
Tank pressure by operation of CO2 cooling unit can be auto controlled with pressure gauge and pressure switch.
The level of mm WC column is indicated by differential pressure liquid level indicator.
Every system is provided with a corresponding chart for determining the tentative liquid quantity in Kgs (Optional).
Load cell weighing system for determining the tentative liquid quantity in Kgs(Optional).
D.P type gas flow rate indicator cum totalizer on tank outlet line to counter the quantity of gas(Optional).
Temperature indicator for indicating liquid temperature and pressurizing circuit for maintaining the pressure of tank(Optional).
Vapor loss in case of pressure exceeding the set-range can be restricted with cooling unit control panel.
Automatic operations are ensured with electric control circuit and other instruments as per the requirement.
Two safety valves are provided, each of which have sufficient discharge capacity to discharge the gas during accumulation of excessive pressure.
Two isolation valves to periodically inspect and test safety valves.
Constant CO2 vapour is maintained by Vaporizer during process consumption of gas in plant.
200th K PUF Insulation together with aluminum sheet barrier.
The complete system is compact and sturdy, giving easy access of components for maintenance.
Technical Specifications
| | |
| --- | --- |
| Capacity | 1000-5000 L, 5000-10000 L |
| Features | Leg Support, Horizontal Orientation, Vertical Orientation, High Temperature Resistant |
| Storage Material | Gases |